When talking about Hungary it is impossible to ignore the numerous traditions that come with the illustrious history and culture of the country - from the advent wreaths of Christmas to Luca Day - there are many wonderful traditions to behold. However, a special place is reserved for the new year's traditions that take place in the country each year. Surrounded by the warmth of friends and family, traditions passed down from generation to generation light up homes around the country. This is something I have been fortunate to experience since arriving in Hungary to study at the University of Pecs in August of 2017.
One of my fondest memories is standing on a very crowded Liberty bridge in Budapest with no space to move, everyone waiting eagerly for the customary new year's eve firework display to begin. There was a palpable sense of anticipation in the air, a collective desire to witness great bursts of light across a dark canvas. The experience made me appreciate that it doesn't matter where you are in the world, we all collectively celebrate and look forwards to the new year, starting new beginnings and aspiring to new things. Personally, this felt comforting and grounding; a recognition that we are all more similar than perhaps we care to acknowledge.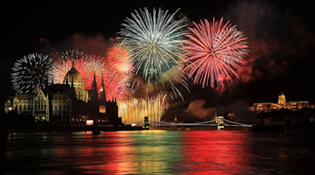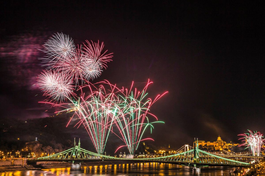 It is a sight truly to behold, the Danube lit up by what feels like a million colours. Like most things in Hungary, the tradition of making loud noise has its roots dating back many hundreds of years. In the past, it was believed that old women could get rid of evil spirits by making loud sounds - banging pots and pans in the kitchen at midnight. While the contemporary celebration feels like something of a departure from this, it still has stayed true to its historic origins.
Later on, that night, when discussing the new year's traditions in Hungary over a glass of champagne with my friends, it became apparent that food is of central importance and there are some choice dishes to consume. Largely, this is due to the belief that what is consumed on such days will impact the year ahead.
On the 31st December, roasted pork and kocsonya (pork aspic) are often served due to the belief that pigs root up good luck. On the other hand, chicken, due to birds scratching away success is a dish rarely served. The same rule applies to fish, who are believed to swim away with good fortune.
On New Year's Day itself, dishes containing loads of lentils are served, as, due to their round coin-like shape, it is believed they will bring you wealth for the year ahead. Such beliefs and traditions are of interest to me as we don't have any particular dishes in order to celebrate new years in South Africa. But like in Hungary, I have always been surrounded by friends and family, celebrating and welcoming in a new start.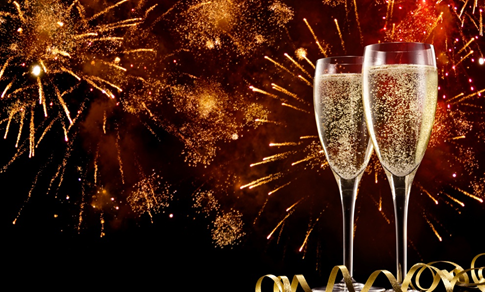 I distinctly remember looking around and seeing the smile on each person's face, it felt in that moment as though time was suspended - held in a state of joy and hope. For me, that is the greatest new years tradition of all,  the joy that we all at the prospect of something new. As we look towards 2021, I can't help feeling this optimism will be of particular importance.
Written by Samantha Foster
International Student Ambassador from South Africa
Architecture OTM
University of Pécs, Faculty of Engineering and IT
south.africa@pte.hu​