The purpose of this blog post is to emphasize the importance of well-organized travel. Traveling with less allows you to be free and eliminate the problems that occur when carrying a truck load. Packing items that satisfy your basic needs is essential and needs to be put at the top of your list. Documents required, by the university, or for travel should be kept close because without them you are not going anywhere. All other items, you will be able to find at the stores of the city that you travel to.
Luggage
Clustering is something we all do, but when traveling this cluster causes a multitude of problems. Having to carry upwards of 60 kg, up and down travel institutes, is hard, no matter how strong you are. Your handle breaking is even worse and trust me when I say this, it will make you want to leave your bag where it is and not look back. Problems with bus storage are another thing to worry about and have caused a few of my friends to leave their luggage at the airport. To keep it simple, I would recommend getting 1 huge bag with a trusty handle and 1 backpack, in order to avoid the previously mentioned misfortunes.
Basic needs
Now that you have your trusty bag, what do you put inside? Well we should start with the clothes, bring the pieces of clothing that you wear most often. One very important variable to consider is the weather and be prepared for the winter as it can get very cold. One winter and one autumn jacket should be enough and will not take up too much space. Other more important things that you should bring would be 2 toiletry bags, one for personal hygiene, and the other for medicine. Your hygiene bag should be packed with your toothbrush, toothpaste, after shave and other essentials that you need. On the other hand, your medicine bag should contain pills for common illnesses, painkillers, vitamin C etc. This is very important because, first medicine can cost quite a bit and also not having insurance when travailing can be scary, even if it is only for a month or two.
Documents
Your backpack needs to have only items that you would require on short notice, these include your travel documents, admission documents, laptop and this is also a good place to stack some snacks. The documents are most important, and you want them close because when for example at the airport they ask you for them, you don't want to be juggling your bags in order to find them. Having a well-organized structure for your documents makes all the difference. You can organize them in many ways but the way I did it was, I put all documents like diplomas and certificates in one folder and stacked the most important (graduation certificates, transcripts etc.) bits in another folder. One suggestion would be to have backups of your files on a USB or on the cloud just in case.
Nonessentials
Everything I have talked about so far has been the "must have" when traveling. Many of you are not coming here for one semester, so what about everything I have not mentioned. Well that is easy, "Buy them once you are here", it may be a little expensive for some of you and it was for me but spending some extra money and saving yourself the hassle is worth it. Things like pans and utensils should not cost that much and believe me the less you have the better. Some dorms don't have too much space and trying to cook and store your things there can be hard especially when you consider that you will be sharing the space with other students.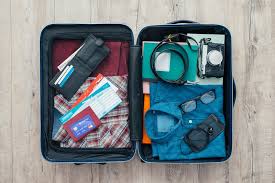 Take away
To summarize, I recommend bringing only 1 big luggage bag and a backpack. In the luggage you want the essentials in order to satisfy your basic needs. The backpack needs to have documents that are structured and easily accessible. Nonessentials due to their nature and weight should be bought from the final destination.
Written by Darko Denkovski
International Student Ambassador from Macedonia
Business Administration BSc
University of Pécs, Faculty of Business and Economics
macedonia@pte.hu