OTHER FUN THINGS TO DO
Tüskésrét
During summer time you can try the wakeboard cable park which is located in a beautiful environment in the heart of Pécs. The park 'Tüskésrét' offers plenty of opportunities in every season besides wakeboarding. There is a synthetic running track with night lights around the lake, a beach volleyball and beach soccer field and a street workout fitness park.
Pécs Zoo
The zoo is located in the scenic Natura 2000 park of the Mecsek Hill. Originally the goal of the Zoo was to exhibit the Hungarian wildlife, but recently exotic species have also moved into the park. In 2016, when the renewed Pécs Zoo was reopened and the aquarium-terrarium was moved from the downtown location to Mecsek, both the territory of the park as well as the number of species displayed increased. About 1,000 animals from 250 different species reside currently at the Pécs Zoo.
Komló Mini Zoo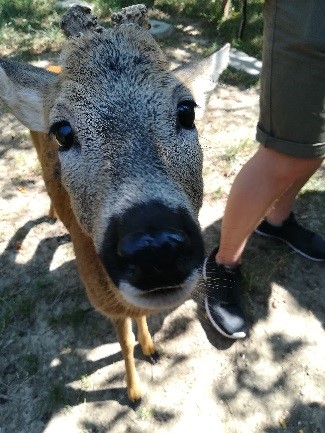 Just a 45-min bus ride from Pécs you can find Komló, a small town on the other side of Mecsek Hill. This small town hides a true treasure: the Mini Zoo, founded by an enthusiastic animal-lover, and inhabited by animals who at some point needed human care in their lives. This unique zoo is home to not only African hedgehogs, squirrels and bunnies, but you can find meerkats, deers, coatis, kangaroos, chameleons, foxes and many more. You can feed and pet these animals, or you can even go into their cages to play with them.
Misina Nature and Animal Protecting Association
The shelter gives home to different kinds of domestic animals, but mostly dogs and farm animals. If you visit the shelter you will have the chance to make a dog's day by walking it for an hour together as a volunteer. The volunteers will be very grateful for your help, even more so if you can donate some dry or canned food, too.
Mecsextrem Park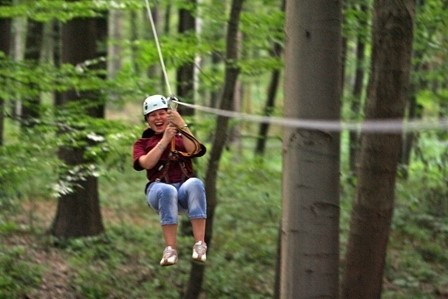 Mecsextrem Park is one of the largest adventure parks in Hungary located in the Mecsek forest. It has an Alpine rope park, bobsleigh, 8-meter-high climbing wall, 100 m2 playhouse, and many other games that can help you to have a truly adventurous day!
Sunday Market
Just next to Pécs Plaza Mall you can find the Sunday Market of Pécs. The market is open from early morning hours on Sunday until the early afternoon hours. You can get the real feel of a market - not just because of its size but because of its versatility, too. Whoever wants a coat, pants, nearly any piece of clothing, sunglasses or bag, you can find it here. The market hides rare treasures, antiques, infrequent objects and forgotten memories in its flea market parts, and you can also find household items and decorations here. If you get hungry while wandering among the rows, you can easily stumble on a mini donut or a traditional Hungarian street food called Lángos.
Dotto (from spring to fall) – or the 'Funny Little Train', as our international students call it
Get familiar with the 2000-year-old history of Pécs in about 45-50 minutes on a guided tour in English on the unique sightseeing train. On the tour you will see the most important sights of downtown, the Zsolnay Cultural Quarter, the medieval city walls and the Turkish memories. You will have the chance to learn a bit about the life and history of our city.