INTERNSHIP
The Study Abroad Office hires 1-2 interns every semester who are responsible for managing the study abroad social media accounts of the University as well as in assisting the promotion of the Study Abroad programs.
This semester-long internship is open to students enrolled in the study abroad program of the University of Pécs.
We are looking for students who are:
- native English speakers,
- dynamic, resourceful, innovative, multi-skilled, able to work independently,
- experienced in communicating effectively through social media platforms,
- passionate about sharing their study abroad experiences
The tasks are the following:
- Managing the University of Pécs study abroad social media accounts (Facebook, Instagram, Twitter) - by posting at least 3 posts a week using trackable hashtags provided by the Study Abroad Office
- Be a role model for students who are interested in studying abroad at the University of Pécs
- Collecting student testimonials from other study abroad students in Pécs
- Making at least 5 short videos with other international students
- Making a slideshow about the intern's study abroad semester in Pécs
- Promoting the Study Abroad programs of the University of Pécs at his/her home institution
- Making language reviews of the promotional materials of the office
The internship is not paid, however, we offer our intern the following benefits:
- Lots of learning opportunities, support, and guidance by an assigned internship mentor
- 4 ECTS credits for completing the internship
- A truly international environment,
- A great team to work with
- A great opportunity to enhance his/her talents in the field of communication and marketing
- An official Internship Certificate at the end of the Study Abroad semester at the University of Pécs
If you wish to be our next intern, apply to the Study Abroad program now and contact Ms. Boglárka Vecsánin at vecsanin.boglarka@pte.hu for further information!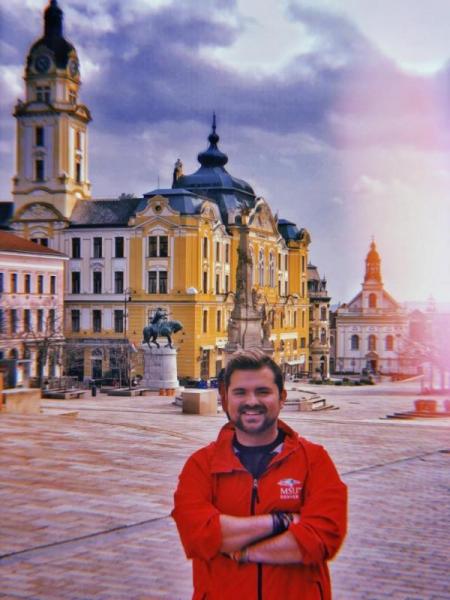 "My Internship at the University of Pécs was incredible! I am so glad that I got the chance to work and collaborate with these wonderful people in a unique foreign environment. This opportunity has helped me further grow my knowledge of social media marketing as well as to share my passion for creativity with others. Because of this Internship, I will be able to carry the skills I have developed in Pécs and apply them to my future career. Thank you so much!"
Nikolai Puc, Metropolitan State University of Denver, 2020 Spring