EXPLORE STUDY ABROAD EXPERIENCES! 
"Studying abroad in Pécs has been a wonderful experience. The university has a beautiful campus and you get to see the wonderful aesthetics of Europe everywhere. I met some really cool people from around the globe and also made some unforgettable memories.

P.S, if you are here, please visit the botanical garden in the Faculty of Humanities"

Sneha Sardar, Jadavpur University, India, 2022 Fall

 

 

"I absolutely loved the lively and picturesque environment in Pécs! The city is an absolute hidden gem nestled in one of Hungary's most well-known wine countries, within reach of historic castles, thermal spas, and hiking trails where you can really make the most out of studying abroad. I also loved the fact that you can easily travel throughout Europe when studying in Pécs, since cities like Vienna, Budapest and Prague are just short train rides away!"

Sophie Shoultz, Iowa State University, 2022 Fall


"Pécs is the perfect place to study if you want to meet friends from around the world, receive a well-rounded education, and have experiences you'll never forget. I'm so grateful for my time spent in Pécs and recommend it for anyone looking to Study Abroad in Europe!"

Nia Smith, University of Denver, 2019 Fall

 

"Studying abroad at the University of Pecs was a once-in-a-lifetime opportunity that I am so glad I was able to partake in! I wasn't sure what to expect when I decided to go to Pecs, but as soon as I got there I knew It was where I belong. From taking classes on the beautiful campus to immersing myself in the unique culture of Hungary, my experience abroad was life-changing. The knowledge I have gained and the friendships I have forged will stick with me for the rest of my life."

Nikolai Puc, Metropolitan State University of Denver,
2020 Spring


"My experience in Pécs was truly unique. I was immediately welcomed by a diverse and friendly community, and I had an amazing semester learning about different cultures, immersing myself in the Hungarian language and lifestyle, and meeting new friends."

Isabell Strawn, University of Idaho, 2019 Spring

 

"I loved every minute I was in Pécs! It's an amazing city, and I always felt safe and welcomed."

Spencer Reid Nichols, University of Arizona, 2018 Fall


"Studying abroad at the University of Pécs was a life-changing opportunity that allowed me to learn more in and outside of the classroom, travel to different places, make lifelong memories, and friends. Being immersed in such a large international community allowed me to learn more about different health systems and encouraged me to further my studies to pursue a Masters in Public Health. I will forever be grateful for the time I spent in Hungary."

Boglarka Jordan, University of Bridgeport, 2017 Spring

 


"Studying abroad here in Pécs has been the most enriching experience of my life; seeing European culture firsthand and interacting with people from all over the world has been truly transformative!"

Jasmin Braund, Metropolitan State University of Denver, 2020 Spring

"Pécs was a wonderful city that offered me the opportunity to meet many life-long friends. While in Pécs, I felt very comfortable and the city was welcoming."

Michelle Chavez, University of Arizona, 2019 fall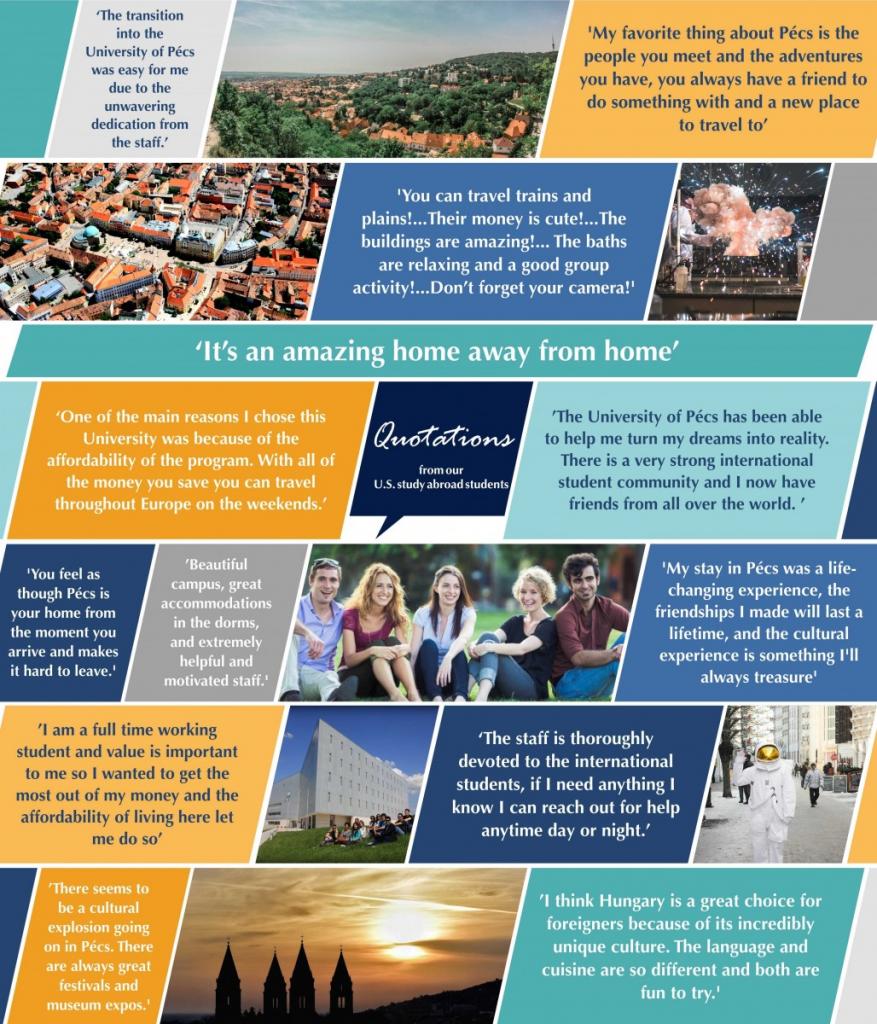 *​The quotations are from U.S. study abroad students.