The Society for Neuroscience (SfN) presented its highest honour, the Ralph W. Gerard Prize in Neuroscience, to György Buzsáki, PhD on 26 October in Washington D.C. The alumnus and honorary doctor of the University of Pécs received the lifetime award named after Ralph W. Gerard, the influential neuroscientist and founder of SfN acknowledging his outstanding work on the field of neuroscience, which he will receive during the Awards Announcement Week 2020.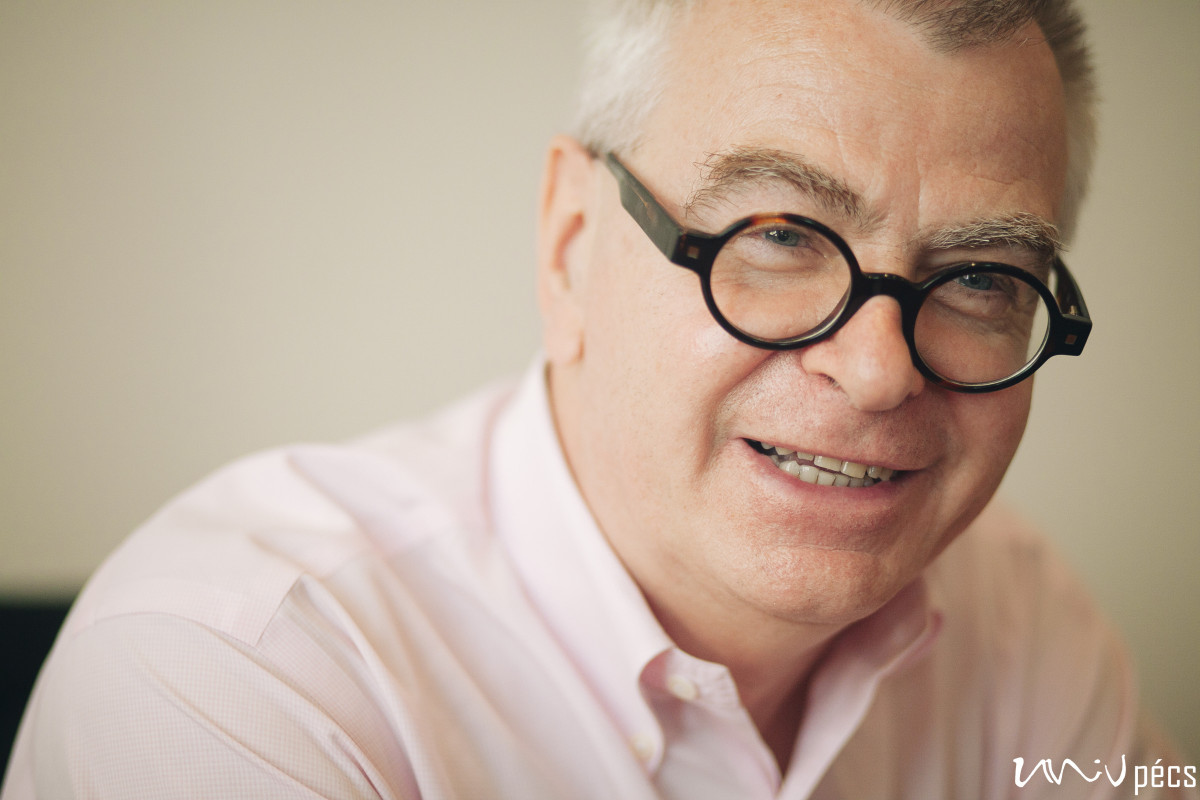 György Buzsáki, MD, PhD (Photo: Szabolcs Csortos, UnivPécs)
Several concepts of modern neuroscience come from György Buzsáki, Biggs professor of neuroscience at the New York University School of Medicine, who is in the 1% of the most often quoted neuroscientists of the world. The scientist, whose research focuses on the organization of the "neural syntax", i.e., how segmentation of neural information is organized by the numerous brain rhythms to support cognitive functions, graduated from the Medical University of Pécs in 1974. "Everything connects me here, everything I know, I learned here. It has been a fantastic period of my life, with the leadership of Endre Grastyán, a great team was created" – Buzsáki said in the interview for UnivTV, University of Pécs in 2014.
György Buzsáki is a member of numerous scientific societies and journals, such as the Hungarian Academy of Sciences and the American Association for the Advancement of Science. For his innovative research, he received several prestigious awards, among others the "Nobel Prize" of brain research, The Brain Prize in 2011, which he shares with two other scientists. The University of Pécs awarded the honoris causa title to György Buzsáki on the Day of Hungarian Science, 1 September in 2017.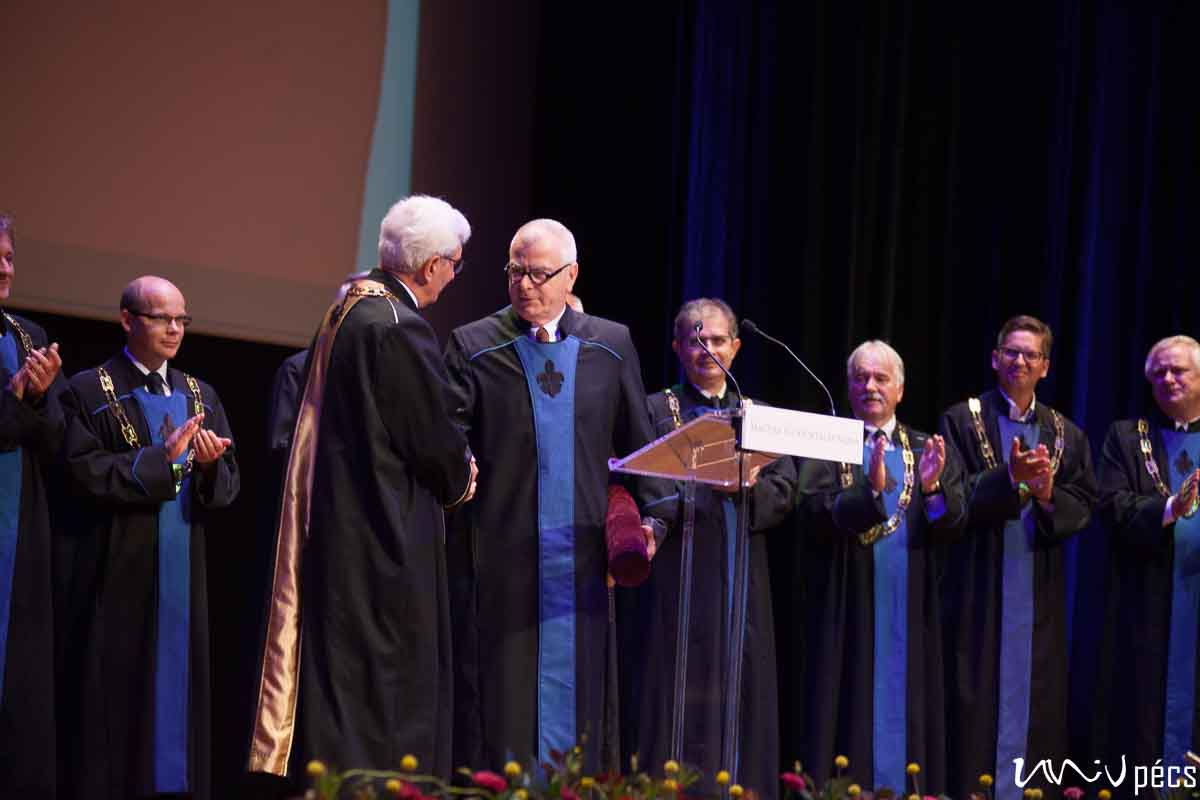 Dr. György Buzsáki receives the honorary doctor title from Prof. Dr. József Bódis, then rector of the University of Pécs
"It is an honour to present Dr. Buzsáki with the 2020 Gerard Prize," – said SfN President, Barry Everitt, PhD. "His work on brain rhythms and neuronal coding is ground-breaking and has shaped our current understanding of information processing in the brain." – summarizes the press release of SfN. The Ralph W. Gerard Award of the Society for Neuroscience has been awarded annually since 1978 for lifetime achievement in neuroscience.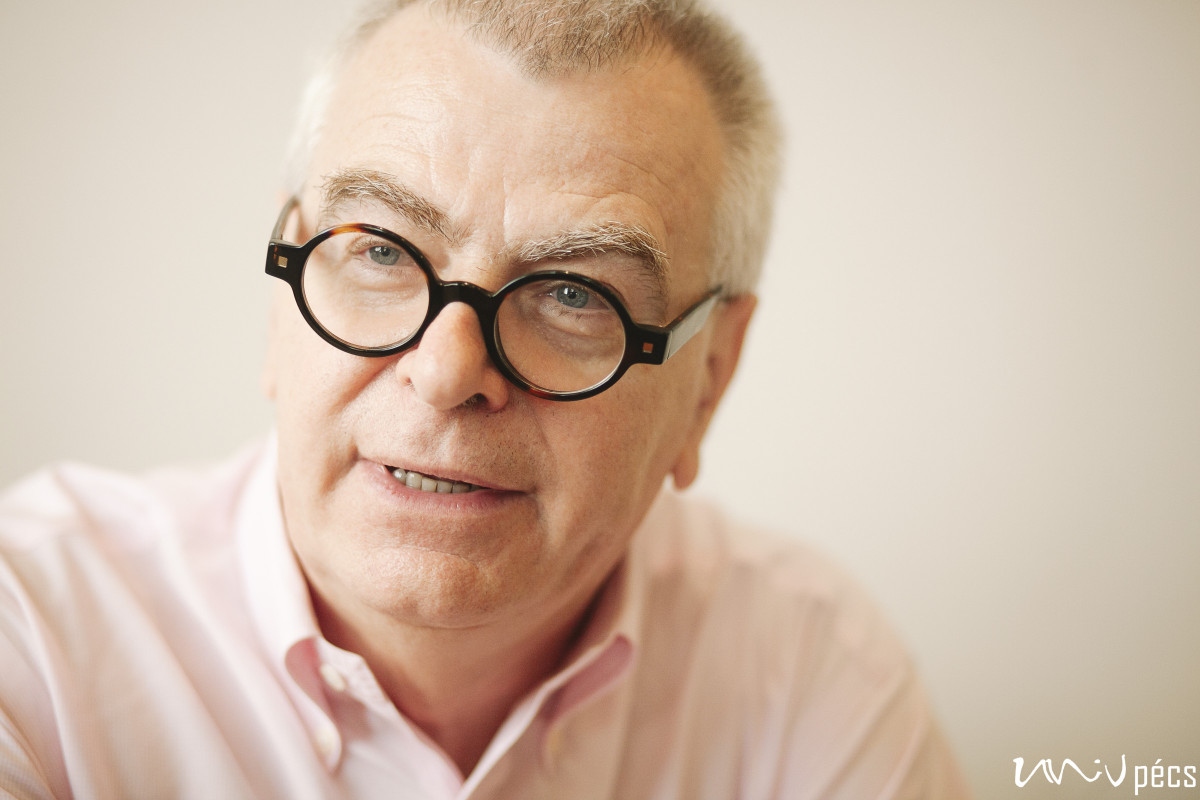 UnivPécs has made a short interview with Dr. Buzsáki on the occasion of the Ralph W. Gerard Award on 27 October:
UP: You received this award for your outstanding work in the field of neuroscience – what does it feel like?
György Buzsáki: Since this is the most prestigious award of the Society for Neuroscience (SfN), it is an amazing honour of course. However, for me, it meant an even greater acknowledgment, when more than 7,000 people came to my lecture at the 50th anniversary of SfN last year in Chicago. This was the most popular event in the history of SfN. For me, this was a kind of people's choice award, while committees give most of the awards.
UP: What is your motivation for your research and scientific work?
György Buzsáki:
I am a curious person by nature, I find everything interesting. But probably the most interesting thing is, how we humans work.
How did our nervous system develop in the last 4 billion years to become like this? How is information transmitted, stored and recalled? Why do we spend one third of our lives with sleep? These questions are motivating enough, aren't they? We are glad to find even small answers.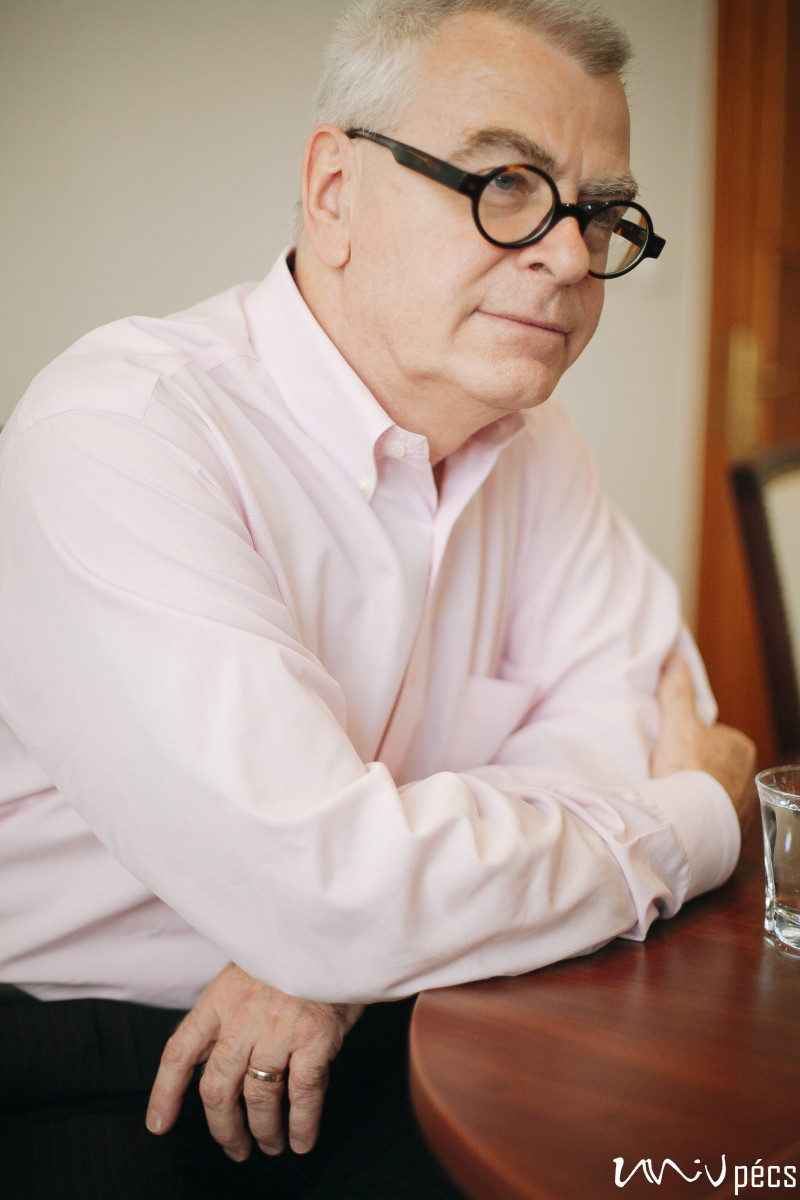 UP: How do you remember your years in Pécs?
György Buzsáki: My years in Pécs have formed my personality greatly. I remember my amazing teachers in Széchenyi Secondary School fondly; where I received the much-needed basics specializing in mathematics and physics. I had likewise fantastic professors at the Medical University of Pécs.
My mentor, Endre Grastyán lives in my heart to this day. Without him, who knows what would have become of me.
György Romhányi, Béla Flerkó, Gyula Tóth, Szilárd Donhoffer, László Horváth, Imre Szirmai, József Czopf and my dear colleagues in the Institute of Physiology have been my role models.