Amir Reza Ashraf is a graduating pharmacy student from Shiraz, Iran, who takes his studies seriously, and still finds time to be the president of EGSC for three consecutive years. With his team, he brought back the motivational speech. He is involved with Faculty of Pharmacy's Students Union as well, he participated in the Undergraduate Research Society (TDK), the 50 Delicacies on Earth international recipe book project and he speaks Hungarian with a wonderful pronunciation. I asked him about his life at the University of Pécs.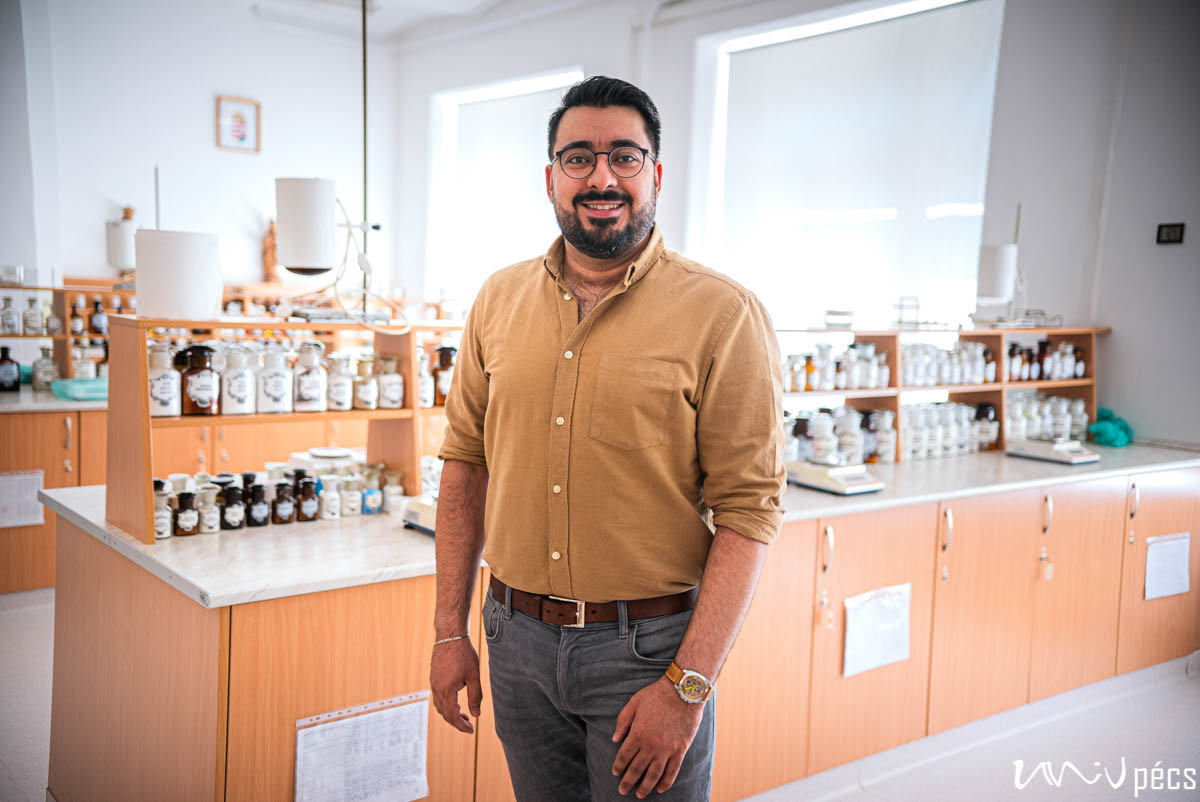 Tell us about the start of your studies in Hungary!
Finding the right path for my education was a little bit difficult. I come from a family that has many generations of doctors, my eldest uncle was among the very first medical doctors, who graduated from Shiraz Medical University and my sister is a doctor, so I was thinking to follow along this path. When I came to Hungary, I enrolled in a pre-med course and later started studies at the Medical School. Afterwards, even though it was a hard decision to make, I realized general medicine is not the best fit for me. I had many reasons for this, one of which was that many young people, including me, see the positive side of things and forget the negative and many times the reality is different. I realized, a lot of patients may not be able to recover and I did not want to be the one to tell somebody that they are dying and there was nothing to do to save them. I could not stop caring for them. I know you can always specialize in fields that do not require life or death decision making, but still, having realized this reality pushed me to change my career path, even though it meant somehow starting all over again in a new field. I was always interested in the basic sciences, and the medicinal compounds themselves, so I went on to study pharmacy, the science of medicine and manufacturing of medications. Now, I have one semester of theoretical and practice left, so I will be graduating soon.
You also participated in the Undergraduate Research Society (TDK), what was your research topic?
I am very much involved with TDK, and I was very glad to represent the University of Pécs at an international conference abroad in France, where I had a poster presentation as part of the team from the Department of Pharmacognosy, Faculty of Pharmacy. In our study, we compared how different essential oils affect airway inflammation. We have promising results with different plant species, and we recently published a paper in "Molecules" scientific journal about our findings. I am continuing this research on a plant that is endemic to the city where I am from, Shiraz with samples received in cooperation with Shiraz University. This topic is actually going to be my thesis.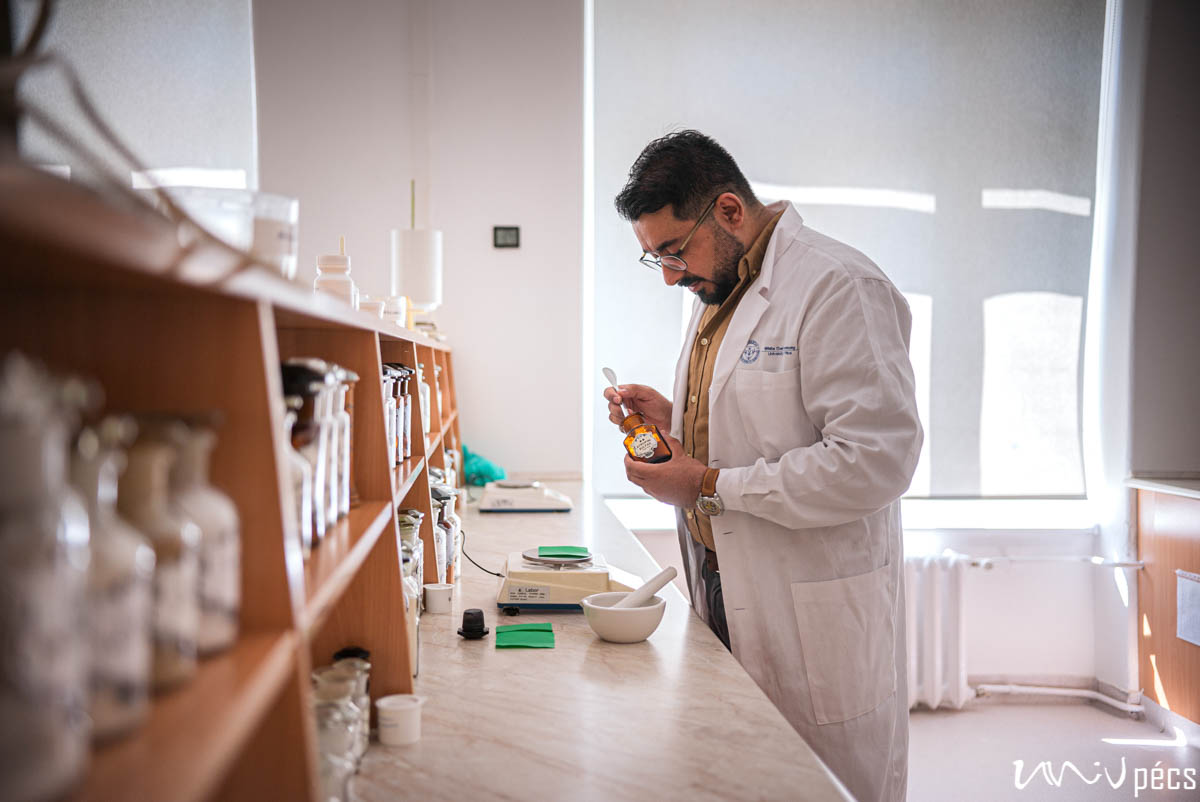 What were the highlights of your presidency in the English German Student Council (EGSC)?
I was elected as the president in 2016, and I was re-elected two times. It was a huge responsibility and I am very happy that I did it. We did a lot of things for charity, which I am very proud of. Lucas Wildenhayn was the president on the German side, and we had a very good team! We tried to make International Evening (IE) very big and successful. It took a lot effort and perseverance. Through this event,
we always wanted to tell the city that the international community brings a positive influence and progress.
The international students are not just here to study and go home, they want to do good while they are here in Pécs. Since IE is a charity event, I hope it highlights a little bit of that. We supported different departments, clinics, homeless shelters, orphanages. The care we got from the university and from the city, we try to give back to the community in other ways or even multiply it.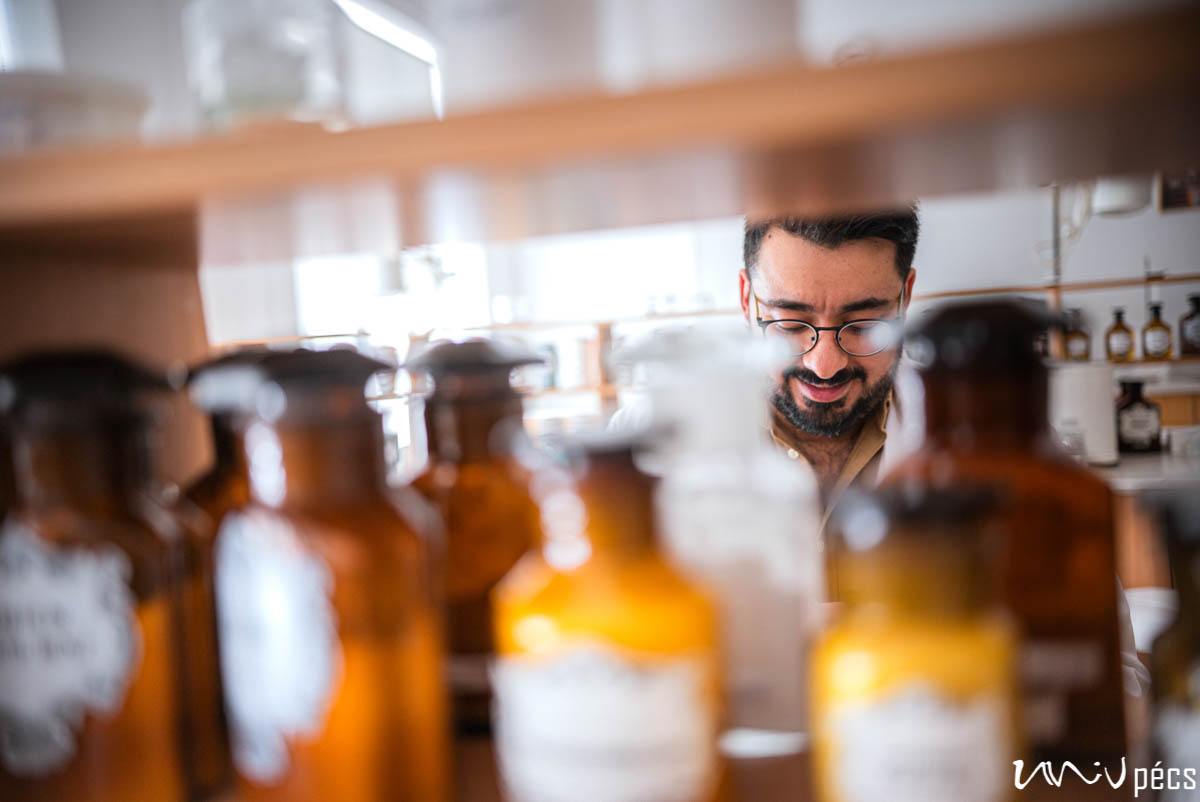 You also brought back the Motivational Speech, which is a great event as well!
When I became president of EGSC, it was my personal goal to bring back the motivational speech to life. The first motivational speech in Pécs in 2014 was held by Dr. Patch Adams, a very famous American physician, comedian, social activist. In 2016 and in the following years, we had consecutive speeches. It was my responsibility, and I am happy that it worked out.
We invited Dr. Bennet Omalu, who was portrayed in the film "Concussion" by Will Smith, he discovered that American football players receive so many head injuries that it affects the cellular structure of their brain, causing severe impairments, disability and premature death. Although they tried to silence him, he managed to convince people of the truth. Then in 2017, Sir Robert Winston came to Pécs. He is a British professor, medical doctor and scientist, and one of the pioneers of IVF research. He is also a famous presenter for the BBC. I was very happy that we could support his charity through this event. The third motivational speaker during my presidency was a famous actor from the "Breaking Bad" American TV series, RJ Mitte in 2018. He gave an amazing speech about overcoming adversity, and I was very happy that we could invite him. There was also an inside joke between us, since I am a pharmacy student, I had to involve some chemistry…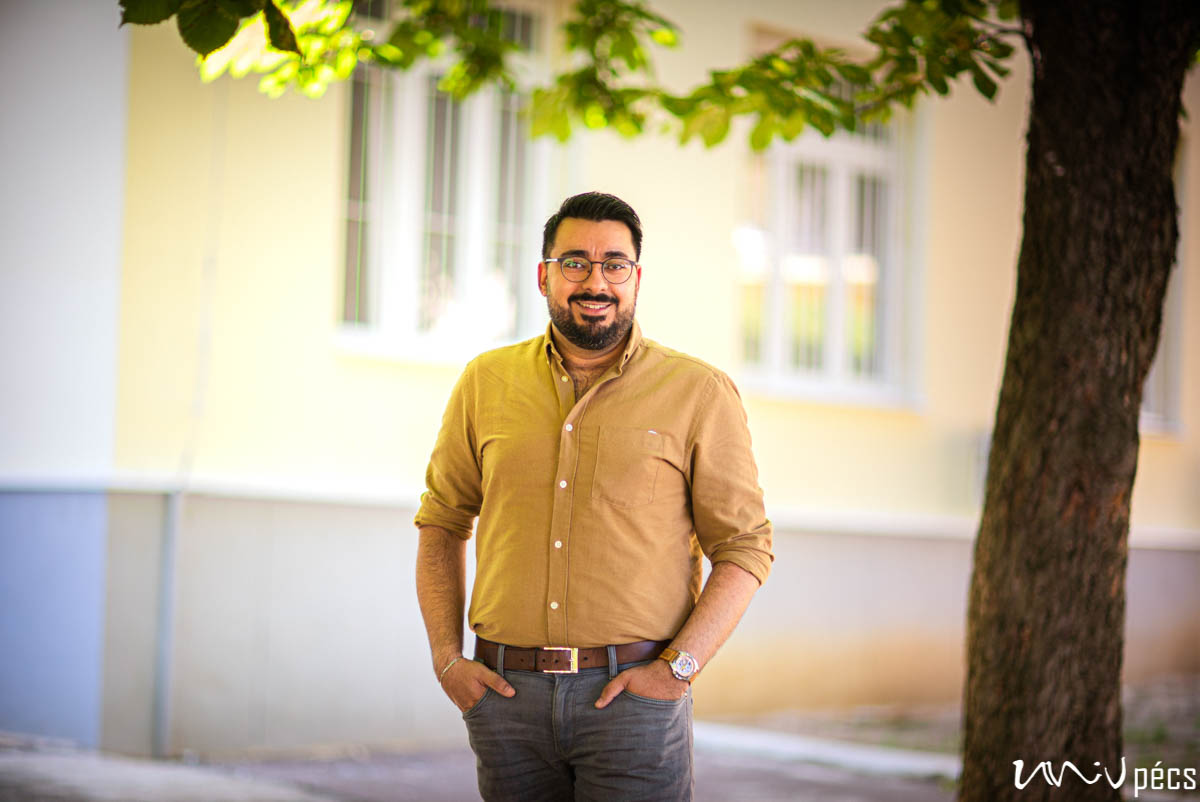 EGSC was not only involved in charity, but the education as well. There is a system called Amboss, which is a German online medical education tool. With EGSC's initiation and the help of the Medical School, all students gained access to Amboss which helps improve their knowledge. This proved extremely helpful in the Corona virus distance learning situation.
I am glad that my work in EGSC did not go unnoticed, the university decided to give me the Pro Universitate Juventutis Award in September 2018. I am thankful to Gabriella Földényi and specially Anikó Berta for supporting me and the EGSC board over the years.
What was it like to participate in the 50 Delicacies on Earth international recipe book project?
When Anikó told me about the recipe book idea, I was happy to send a recipe and share a bit of my childhood memories. We had a great time with chef Lokodi, the whole team was very nice. The project was a very good idea and I was glad to be involved. I hope that people actually use the book, because the recipes are great!
How did you learn Hungarian?
I always say that I learned Hungarian from György Korda (Hungarian singer, celebrity). This surprises people and they laugh, but it is kind of true! There is a TV show on a Hungarian channel about poker, where György Korda and his wife, Klára are the commentators. It was funny to watch and was one of the things that helped me to get familiar with the language and everyday speech. Of course, university language courses were essential as well.
My father always says that language is like a toolbox, you can never have enough tools.
The more tools you have, the more problems you can fix. So, I thought I am studying here, why not learn Hungarian?
I heard that you have an unusual hobby, how did that start?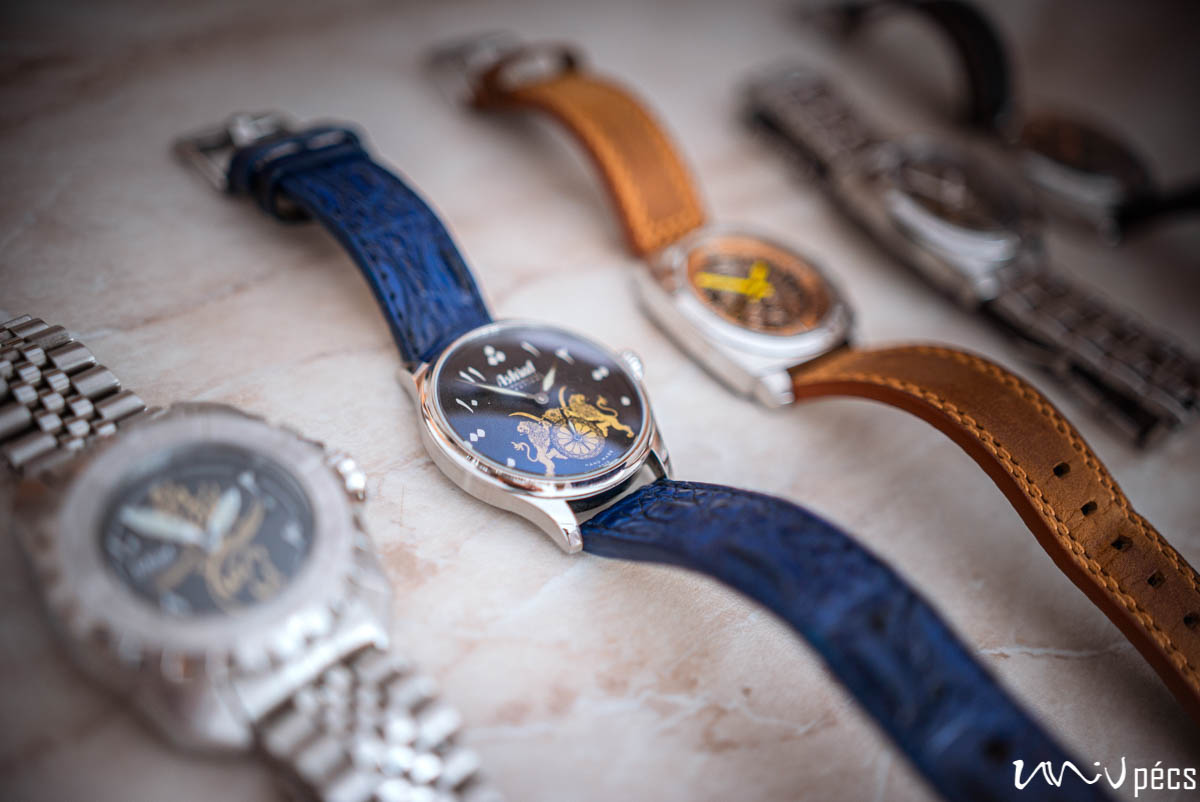 It all started with a watch I bought online, which had red hands, instead of the blue I wanted. Then I started to research, whether I can change the hands myself. I found some forums to learn, and I basically ended up destroying the first watch, but I was hooked. I read some books and I slowly started collecting the necessary tools and work on watches, soon it became a hobby. What I do is not exactly watchmaking, that needs years of training and a workshop. I make my original dial designs, modify parts with limited tools and assemble different parts. I tinker with the movements if needed. I do not do it constantly, it is a slow hobby. My current favourite watch involved some chemistry in the making, to get the blue oxidation on the watch dial, which goes well with the blue colour scheme of the watch.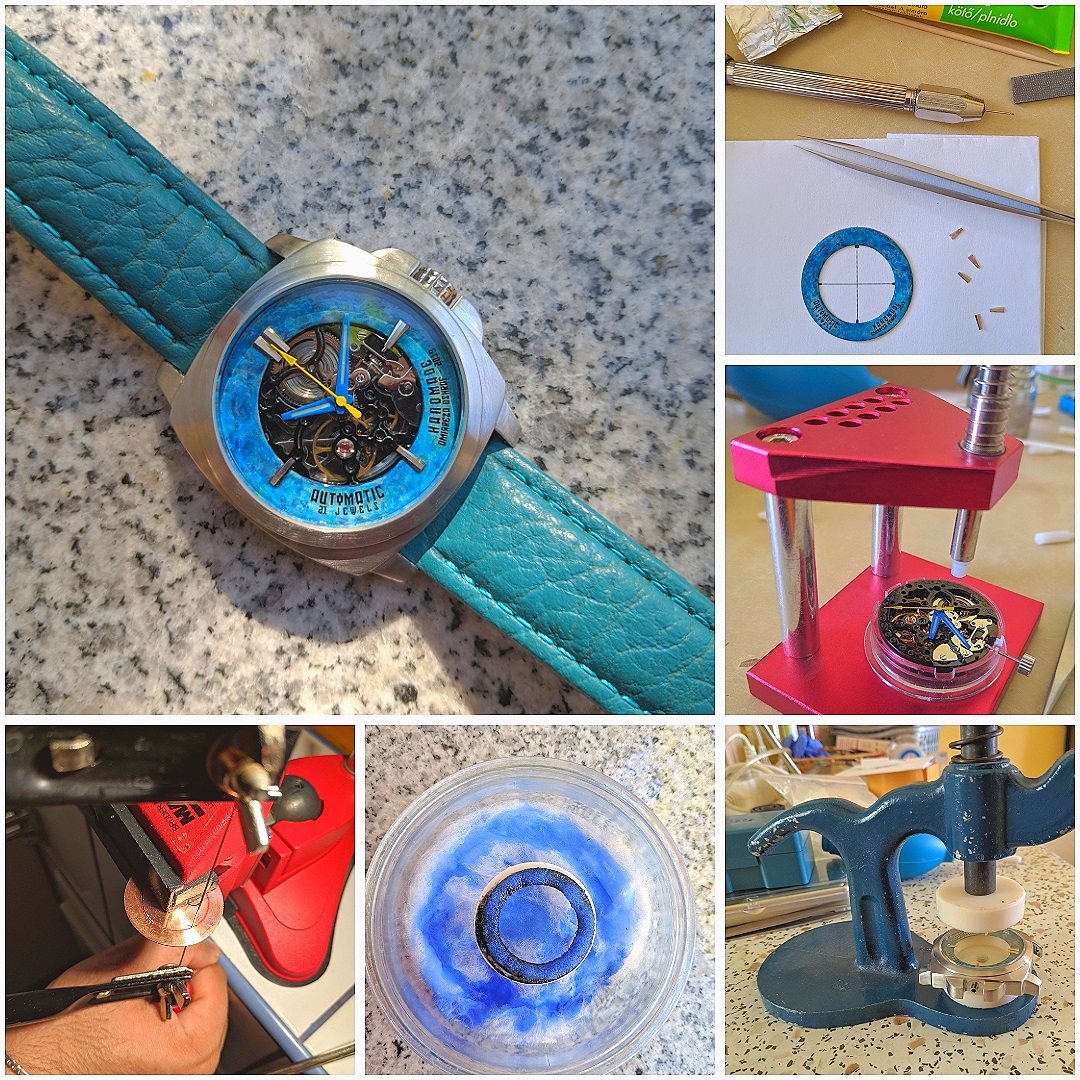 How do you like living in Pécs?
I like Pécs because it is a student town. The city is memorable for many students, they make friends here, they become adults. It is something that they will never forget. And hopefully for most of them, it will be a good memory to keep.
Interview: Mariann TÓTH, UnivPécs
Photos: Szabolcs Csortos, UnivPécs
Collage & watches: Amir Reza Ashraf