Starting on 26 June, the University of Pécs launches an international challenge to promote a healthy lifestyle.
The patron of the MOON BIKE project is Prof. Dr. József Bódis, Secretary of State for Higher Education, Innovation, and Vocational Training.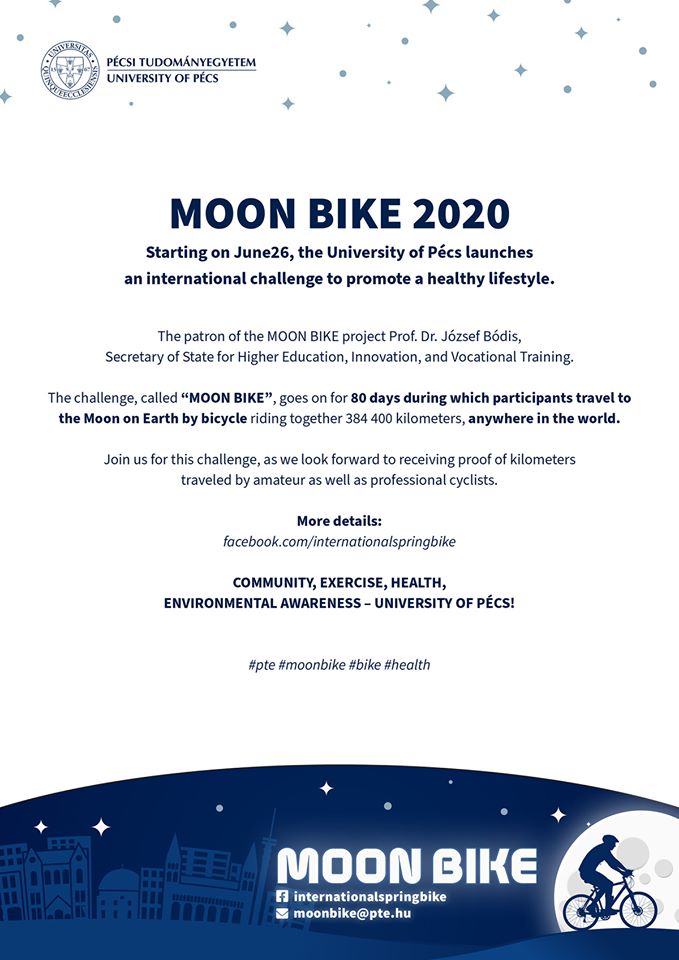 The challenge, called "MOON BIKE," goes on for 80 days during which participants 'travel to the Moon' on Earth by bicycle riding altogether 384 400 kilometers*, anywhere in the world.
Join us for this challenge, as we look forward to receiving proof of kilometers traveled by amateur as well as professional cyclists.
Do you want to participate? Do you have further questions?
Please visit: https://www.facebook.com/internationalspringbike/
Community, exercise, health, environmental awareness -  University of Pécs!
Do you want to share your participation? Use the hashtags:
#pte1367 #moonbike #bike #health
*Earth-Moon distance: Lunar distance (LD), also called Earth–Moon distance, Earth–Moon characteristic distance, or distance to the Moon, is a unit of measure in astronomy. It is the average distance from the center of Earth to the center of the Moon. Read more »