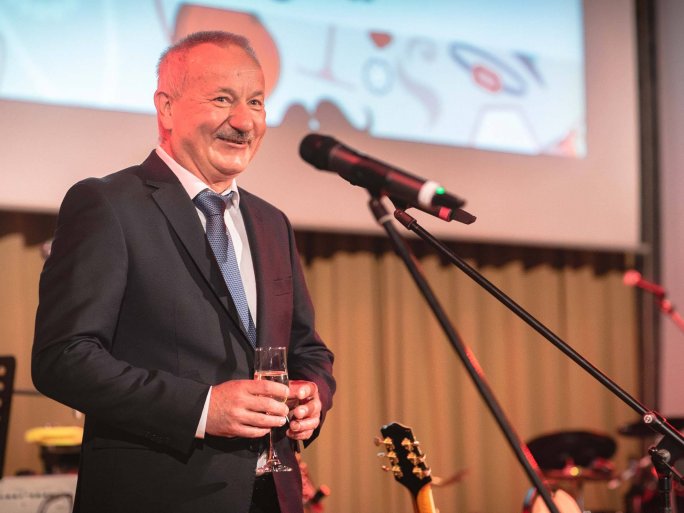 Undoubtedly, 2020 was the year of the pandemic at our University as well as in our city. The perseverance of our employees and students was exemplary. Thank you for the love and appreciation from the outside as well. It felt good! Of course, we all think first about health workers and those who help them directly. At the same time, we are grateful to all, who have shown dedication to their respective jobs. Unfortunately, spring is not expected to be completely carefree, however, with the help of vaccinations and, of course, compliance with the well-known rules and regulations, we will be able to control the epidemic.
Although most of our thoughts have certainly been occupied by problems connected to the epidemic, good things have also happened in the past year. We have mentioned it many times, and it is true that the epidemic has given us the incentive for the digital transition. We have had a surprisingly low number of problems in "online" education; we have held many conferences and meetings in the digital space. We hope to continue with the meaningful parts in the future as well.
Meanwhile, the development of the University has also quietly progressed. Thus, the new educational building was completed on Szigeti street, the development works at the Faculty of Health Sciences  in the city centre are nearly complete, the structure of the new theoretical building of dentistry is ready, the Faculty of Engineering and Information Technology has been expanded with a new facility, and the other faculties have also made progress. Not least, we have managed to obtain additional support, which does not only compensate for the increased prices in construction. Several faculties of the University are involved in the new Economic Development and Innovation Operational Programme (GINOP) with the aim to facilitate the development of research infrastructure by establishing a cooperative centre for higher education and industry. Two new national laboratories have started operating, we have a promise for a third in hydrogen technologies, and perhaps the national laboratory for neuroscience can be realized as well. Future developments can be based on our new 4 billion HUF GINOP programme, which aims to develop the science and innovation park. Successful networking steps have also been made towards Paks-2 development, we have received significant support for language education, sensitization and training, among other things, but hopefully this is just the beginning. I would like to mention, without aiming to give an exhaustive list, that we have once again achieved great results among environmentally friendly universities and family-friendly institutions.
I congratulate everyone, who has contributed to these and other programmes not listed here. At the same time, I would like to point out that there are plenty of reserves that can be used for the benefit of both our entire institution and our faculties with increased activity. We strive to involve our faculties in these innovation opportunities and development programmes, which have so far been able to play only a smaller role. We definitely expect to simplify the administration of tenders and speed up procurement.
Although there is much to be done, our contacts with the major industrial and service actors in the region are becoming more intense and perhaps more effective.
We want to improve our marketing activities significantly. We would be particularly pleased if more and more students would choose our university from our attraction area. We want to help the colleagues in marketing in the centre as well as at the faculties, who are working on similar topics to connect and collaborate effectively. Marketing cannot be separated from the representation of excellence at each faculty and, in particular, their academic staff. For this reason, everyone should strive to develop a more effective, and where it is possible, more practice-focused education. We all have to achieve the best possible result in the given circumstances, and we have to strive to improve even more: because of good, there can never be too much, and because the best of good is needed for excellence.
Within the framework of the University, health care services of considerable volume are offered. This continues to operate under a significantly changed management system from 1 January. With the establishment of the National Hospital Directorate-General, a new form of funding is expected to better serve the economic balance. Accordingly, although the Clinical Centre operates with greater autonomy, hopefully, it will be able to serve medical and health science education more effectively in addition to patient care. However, many details are still to be discussed. In any case, we would not like to further expand the administrative management, in addition to which we want to share the duties among the faculties receiving education services from the centre proportionately. 
The increase of wages in the healthcare sector is much welcome, however, further measures will also be needed in case wage tensions within higher education institutions continue to rise. And that does not only apply to healthcare workers involved in education. It is high time that all colleagues in higher education also receive a raise.
We have a balanced, good relationship with city, county and regional leaders, and the key players in industry, commerce and services. It is welcome that, in the person of Éva Mikes, we have received a government commissioner for the development of the region (i.e. the economic development zone) who is well aware of the situation and wishes to rely on the University's knowledge base in particular. Only joining forces and working together can help us convince as many people as possible that it is worth studying in Pécs, at the University, to convince investors that it is worth investing in this region, to convince decision-makers that it is worth supporting us, the citizens of the University of Pécs and our aspirations.
2020 was not only the year of the epidemic and the year of organisational transformations, but we also said goodbye to Chancellor Zoltán Jenei, who is now head of the National Hospital Directorate-General. We are counting on him in that capacity. We wish our new Chancellor, István Decsi, every success. There is plenty to do.
For me, 2020 was not primarily about the above, but about cooperation, understanding, perseverance and a lot of work!
Finally, let me wish everyone good health, efficient and effective work, and success for 2021.
Dr. Attila Miseta
rector
Cover photo taken at the 2019 University Ball (Photo: Szabolcs Csortos, UnivPécs)