SCHOLARSHIPS 
INDONESIAN INTERNATIONAL STUDENT MOBILITY AWARDS FOR VOCATIONAL STUDENTS (IISMA Vocational)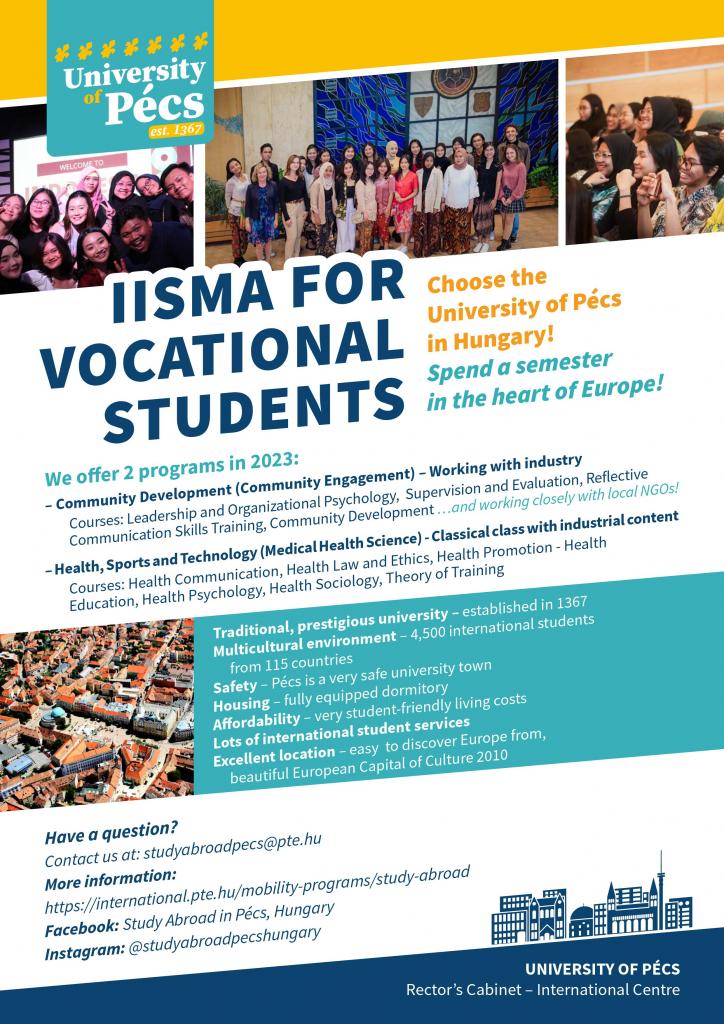 The University of Pécs is delighted to offer programs in COMMUNITY DEVELOPMENT and HEALTH, SPORTS AND TECHNOLOGY to Indonesian students! Made specifically for the IISMA Vocational program, this one-semester vocational training programme is hosted by the University of Pécs,  and its Faculty of Humanities and Social Sciences and Faculty of Health Sciences respectively, and will take place from September to December of 2023.
Community Development

This program provides an opportunity to apply knowledge gained in the classroom with supervised practice in the field.

Intensity: 100 acedemic hours (100X45 mins) / 4 months (in September, October, and November, December)
The student is required to spend these 100 hours at the same NGO for an in-depth experience. Some of these NGOs below might not have an English website but all of them are experienced in working with international students.

Placements options:

Pécs Community Foundation: working for sustainable development goals in the city

Retextil Foundation: community art for community development purposes and for social reintegration  

Élmény-Tár Tanoda: working for the equality of chances, promoting the welfare and wellbeing of children living in poverty.

The DRUKKER Community Letterpress

Mural Moral Association aims to support grass-root initiatives, local communities and support personal- and community development

Courses (4x30 academic hours/semester - click on the titles for syllabi!):

Students' field experience is accompanied by team supervision. Students can discuss their experiences and reflect on their own professional development. Supervision helps the professionals identify and develop their own strengths. During this course students learn how to communicate more effectively and how to collaborate with others; how to solve conflicts in a fair and constructive way; and evaluate their own professional activities.

Leadership and Organizational Psychology 

Students are familiarized with main ideas of leadership psychology and learn about organizational psychology. This course is designed to help students understand and analyse organizational contexts and the role of human interactions in a work-based environment. When applied to work, psychology has often adopted a problem-focused perspective and focused on avoiding negative consequences of work, such as stress, burnout, and social conflicts. However, students will focus on solutions and strengths, influential psychological and social phenomena, and processes at work.  Students will learn how to create, foster, and manage organizations where people thrive and perform at their best, assuming that employee and group thriving is the key to organizational excellence. It will be a journey of personal exploration, understanding, and development, with the explicit goal of making demonstrable progress toward becoming a more effective leader.  Students completing the course will acquire practical knowledge of organizational culture, organizational development, leadership, motivation, selection, and evaluation; and will be able to apply the related methods that do not demand a qualification in psychology.

Reflective Communication Skills Training 

The goal of the course is to improve students' reflective skills, cultural competency, and empathy. Students acquire skills in reflective-dialogic communication and mentalization through experiential learning (analysing interactions, case simulations, exercises etc.) Transformative-dialogic approaches are introduced to facilitate reflections on cultural practices and interpersonal communication patterns. Methods include group exercises and shared reflections, photo elicitation technique and reflective portrait exercises.

The course is an introduction into the theory and methods of community development. Students are familiarized with the international history of community development. Theoretical foundations of the area (as systems theory, relational responsibility, theories of change/social change, network theory and social capital) are discussed. Practices to develop community capacities are evaluated with respect to their potentials to facilitate networking, social inclusion, citizen participation, the development of social justice and trust; and how all these contribute to build a resourceful social context.  Students are enabled to assess a local community by employing developmental research methods; to enter into dialogue with a specific community; to identify and enable potential leaders of a local community so that they could determine their goals and promote change; to strengthen local collaborations and facilitate the formation of alliances among local actors and promote intergenerational co-operation.

Invited lecturers' presentations

Monthly events hosted by the Department of Community and Social Studies. These events comprise a one-hour lecture and a two-hour joint workshop. Students may select 3 of the themes below (they have to vote for these 3 programmes on arrival to Pécs)

-Corporate Social Responsibility
-Use of photo and video methods in community-based projects
-Therapeutic communities (TCs) and recovery movements
-The societal impact of info-communication technologies in a globalised world
-Social aspects of environmental sustainability problems
-Main dilemmas in regional development

Health, Sports and Technology

HEALTH, SPORTS AND TECHNOLOGY 
HEALTH SCIENCE & WELL BEING

General information:
During the courses of this programme, students will participate in lectures and practical classes in the field of Health Sciences. The classes take place at the Faculty of Health Sciences classrooms. With the courses, the students will get acquainted with wellbeing, the basics of health promotion, sociology, and the legal and ethical aspects of healthcare. They will have regular visits to Rátgéber Academy, Performance Diagnostics Laboratory of the Faculty of Health Sciences an in the Skill Laboratory of the Faculty of Health Sciences.  In this facilities different technologies related to sport/ wellbeing but also with professional sport is will be introduced.  

---


I.    THEORETICAL COURSES
 

---

Course title: Health Communication I.
Credits: 4
Total duration (in hours): 12
Course description: Students get to know the basic concepts and theories related to self-knowledge, self-evaluation, personality typologies, personality development, mental hygiene and communication. Their self-awareness and their ability to self-reflect develop. They learn about the process of communication, the characteristics of verbal and nonverbal communication, the strategies and methods of stress management, as well as the causes and types of conflicts and the methods and styles of conflict management. They become capable of self-reflective analysis and development of their own stress and conflict management.
Learning methodology and evaluation methods: classroom practice, observation of class activity and attitude, self-knowledge/self-knowledge development self-reflection based on the aspects specified in the course process 
Number of lecturer in this program: 1
Area of study covered in this program: Medical and Public Health (Medical Health Science)

---

Course title: Health Law and Ethics
Credits: 3
Total duration (in hours): 26
Course description: A thorough overview of the legal history and practice of ethics and jurisprudence, with particular emphasis on the interface between ethics and law. The history of medical ethics. The evolution of its values (from the Greeks to the present). Basic categories of bioethics. Law in life. Different conceptions. E.g. problems of euthanasia, abortion, capital punishment, biogenetics, ethical implications of the technical revolution brought about by the scientific impact of the 4th industrial revolution, ethical analysis of the future. Responsibility for oneself and others. Alcoholism, drug abuse, suicide. Ethical issues in health systems.

---

Course title: Health promotion-health education, health psychology I
Credits: 2
Total duration (in hours): 18
Course description: The aim of the course is to introduce students to the foundations of personality psychology and health psychology and their interrelationship, the typical stages of the human life course, the specificities of health behaviour and the personal and social experiences of illness, the relationship between stress and burnout. Throughout the course, students will understand and master concepts and their interrelationships, theories and models that can be applied in their future work to understand clients, plan interventions and work effectively together.
Learning methodology and evaluation methods: The student prepares a presentation on the pre-agreed topic.
Number of lecturer in this program: 1
Area of study covered in this program: Medical and Public Health (Medical Health Science)

---

Course title: Health Sociology
Credits: 3
Total duration (in hours): 26
Course description: During the semester the students get to know the main research areas of sociology, paying special attention to the features and tension areas of Hungarian social problems. With the help of the acquired theoretical and methodological knowledge we give the opportunity to students to be able to recognise and consider those factors in an adequate way that can play role in arising, lingering as well as solving of problems of those people who belong to different social groups and have different social backgrounds.
Learning methodology and evaluation methods: lecture ending with exam
Number of lecturer in this program: 1
Area of study covered in this program: Medical and Public Health (Medical Health Science)

---

Course title: Theory of Training
Credits: 3
Total duration (in hours): 32
Course description: The aim of the course is to familiarize students with the physiological effects of physical stress, the main elements of cardiorespiratory adaptation, the correlations of conditioning capabilities, the possibilities of developing strength, speed, endurance and flexibility, in order to explain and understand the activities and interventions related to movement in their later studies. Learn about the benefits of regular physical activity and sporting lifestyles and apply them to prevent and rehabilitate the most important cardiovascular, locomotor and neurological diseases. Obtain practical skills in assessing the effects of physical activity, sport-like workouts, learning about ergometric procedures and performance characteristics that are most commonly used in patient and healthy testing. Learn the practical knowledge of regular physical activity, be familiar with emergency situations and first aid for injuries.
Learning methodology and evaluation methods: practical course grade
Number of lecturer in this program: 1
Area of study covered in this program: Medical and Public Health (Medical Health Science)

Output of this program: Academic transcript
 

---


II.    PRACTICAL COURSES
 

---

 

General information: In the programme, students will get familiar with health, healthy lifestyles and sports: practical activities will be organized for the students to get an insight into physical activities as part of a healthy lifestyle, as well as into professional sports.
Locations: 

Rátgéber Basketball Academy 
Performance Diagnostics Laboratory of the Faculty of Health Sciences 
Skill Laboratory of the Faculty of Health Sciences.  

Duration: weekly basis (for approximately 2x45 minutes sessions), 

Activity 1. The aim of the activity is to learn about the modern tools and equipment available for measurements in professional sports, or for basic movement development. After getting familiar with those tools, students will be able to use them individually, and they will be given the opportunity to carry out measurements such as in-body or power plate. Similar activities will be held at the Performance Diagnostics Laboratory. During the course of these practical activities,based ont he measurements to be carried out, students will also learn how to create and implement individiual Physical Activity programmes.

Activity 2. Connected to the theoretical course "Health Promotion, Health Education" students get familiar with the physical measurment of physical activity, healthy lifestyle in practice. The wide range of practical activities is complemented by other activities related to a healthy lifestyle, such as the involvement of students in various sports and recreational programmes (e.g. yoga). 

Activity 3. During the semester, students will also visit the Skill Centre of Health Sciences, where they will have the opportunity to learn about practical education in the field of health sciences.

Activity 4. Wellbeing connected with integral medicine

The aim of this activity to learn to use the techniques of the integrative medicine in order to fulfil the possibilities within the wellbeing. 

Activity 5. Qigong-Traditional Health Protection Exercises: students learn Ba-duan-jin, which means eight sections of precious silk, comparing with eight kind of exercises, through which the practitioners exercise special movements to regulate the breath, mind and body, so as to improve the physical strength, calm down the mind and remove the disorders.
Acupoints and Health includes basic conceptions of meridians and acupoints, composition of meridian system and its distribution, as well as location furthermore it focuses on the acupoints related to health preservation and health care in the meridian system.

Tai chi, also called tai chi chuan, combining deep breathing and relaxation with flowing movements. Originally developed as a martial art in 13th-century China, tai chi is now practised around the world as a health-promoting exercise. Tai chi is characterised by its slow, graceful, continuous movements that are gentle on the joints and muscles. Done correctly, you'll find that the tai chi poses flow smoothly from one into another. You will not only learn the postures of chen style taijiquan but also the practical application of each in defence.
 

---

II.     Facitities of the Practical Courses

Rátgéber Academy – National Basketball Academy of Pécs
Location: H-7632, Pécs, Megyeri út 7, https://www.ratgeberakademia.hu/
Activity: scientific activity, research, education, training, skills development, knowledge dissemination, Pécs and South Transdanubia region basketball training centre for youth and sports professionals, promoting equal opportunities for disadvantaged groups (creating sporting and training opportunities for people with disabilities in the sport of basketball)
Short description: Rátgéber Academy has been created to create a centre of excellence that offers unique conditions for the development of its players. Since its creation, the Academy has been involved in educational, scientific, and sports management acitvities in the Transdanubia region of Hungary.

---

Skill Labratory 
Location: H-7632, Szepesy 1-3, www.szimulacio.pte.hu

This was one of the largest developments of the Faculty of Health Sciences, (legal name Human Patient Simulation Center of Health Sciences) has been welcoming students and lecturers participating in bachelor's and master's programs since 2020. Due to the COVID pandemic, its official handover took place on July 8, 2021 in the context of a large-scale ceremony. According to our mission, with the infrastructural, simulation and educational technology opportunities provided by the Center, we provide the scene for the practical education of nurse and paramedic training within the classroom framework, which is supported by the most modern medical technology devices. Our classrooms are suitable for classic skill-type (practice of a sub-skill), demonstration-type and simulation-type education according to the curriculum networks and the needs of the instructors. Our simulation spaces have been designed and equipped in a hyper-realistic way so that our students can experience the performance of tasks either at home, pre-hospital or in a hospital environment.
The  goal is to provide a field for training where our students can develop their acquired theoretical knowledge into practical skills in a stress-free environment in order to become dedicated and professional assistants to their patients, using the most modern procedures in health science during their work.

---

Performance Diagnostics Laboratory 
Location: H-7632, Vörösmarty 2. www.etk.pte.hu

The fundamental goal of the research conducted in the laboratory is the complex examination of the effects of physical activity in the field of health preservation, health promotion and rehabilitation.
In the laboratory, ergospirometric assessment of elite athletes, hobby athletes and the non-athlete population takes place, for different purposes. In the case of elite athletes and hobby athletes, we perform a performance diagnostic assessment to determine the fitness status of the cardiovascular and respiratory system, which is always preceded by an echocardiogram to rule out contraindications. During the examination, we continuously monitor changes in heart rate, breathing and blood pressure. The output of the measurement includes data related to aerobic and anaerobic fitness, as well as metabolic characteristics. Based on these, training can be optimized and deficiencies can be corrected. In the case of athletes, if requested, based on the data of the measurements, we give advice on how to change the training plan in order to maximize and safely increase the athlete's performance. The survey of the general population is carried out in a similar way, with an easier-to-implement protocol, and we give them dietary and exercise management advice based on the measurements. In the case of population studies, questionnaire surveys on physical activity are supplemented with objective measurements (anthropometry, body composition, body composition, full body scanning, accelerometer movement patterns).