Imagine with me… today is one of the most important days in your life, not only for you, but for your family, friends, and surrounding. You have established a routine on this day for every single year since you were born! All the details are important today, timing, schedules, how to get ready, what to wear, who will you see first, what to say, how to greet, when to go out, with who, what to eat… every single detail will make a difference today, and you wait for it from year to year! But suddenly, everything changed, and nothing is going to work normally!
You probably understand very well what I am talking about. This day for you can be Christmas, or Eid day after the holy month of Ramadan, or any other holy day that exists in all the religions or customs in every society, so please, keep this picture within your mind, and now… imagine that you are obliged to spend this day for the first time, away from your family, friends, and country! Sounds terrifying right? Well, yes, it is frightening, as a thought, but how really was it for me? For my friends? For all of us to experience the Eid day for the first time outside our countries, and here in Pécs!?
Well, this year was quite exceptional in all the measures, thanks to Coronavirus that appeared at the beginning of the year, nothing remained the same, our studies, jobs, activities, even shopping was affected, all of a sudden, we were obliged to change the way we do everything, and, we were all locked down, for short periods in our flats, and for a longer period in the countries we happened to be in when all this started.
Usually, at the beginning of Ramadan, we go back home if possible, or at least, right after we finish our exams and obligations, to catch some days of the month with our families, enjoying the rituals, food, and atmosphere there, and, most importantly, to be there during the Eid day, the biggest day for Muslims around the world. As you can expect, this year, no one was able to travel back to his/her home country, no air traffic, closed airports, and above all, it is not so safe to travel anyway. So how did I manage to survive the day here? How did my friends do?
Well, I truly believe that I was blessed that Eid came when I was here in Pécs! Small cities have a big advantage we all can feel over big cities, people there are closer, bonded and more connected to each other, and this is exceptionally true about Pécs, where the international students meet regularly, everyone will take care of each other, letting you feel exactly like at home. For 3 consecutive days, we were meeting the whole day, with people from everywhere, Lebanon, Tunisia, Algeria, Jordan, Kazakhstan, Pakistan, India, China, Indonesia and more, we were doing an open door day at one of our friends flat, where everyone was coming with the neatest possible look and clothes, as it should be for Eid, carrying the homemade sweets or pastries they usually make for Eid in their countries, playing games, enjoying talks, food, drinks and a great lovely atmosphere like we have never felt before made this day even more special and never to be forgotten!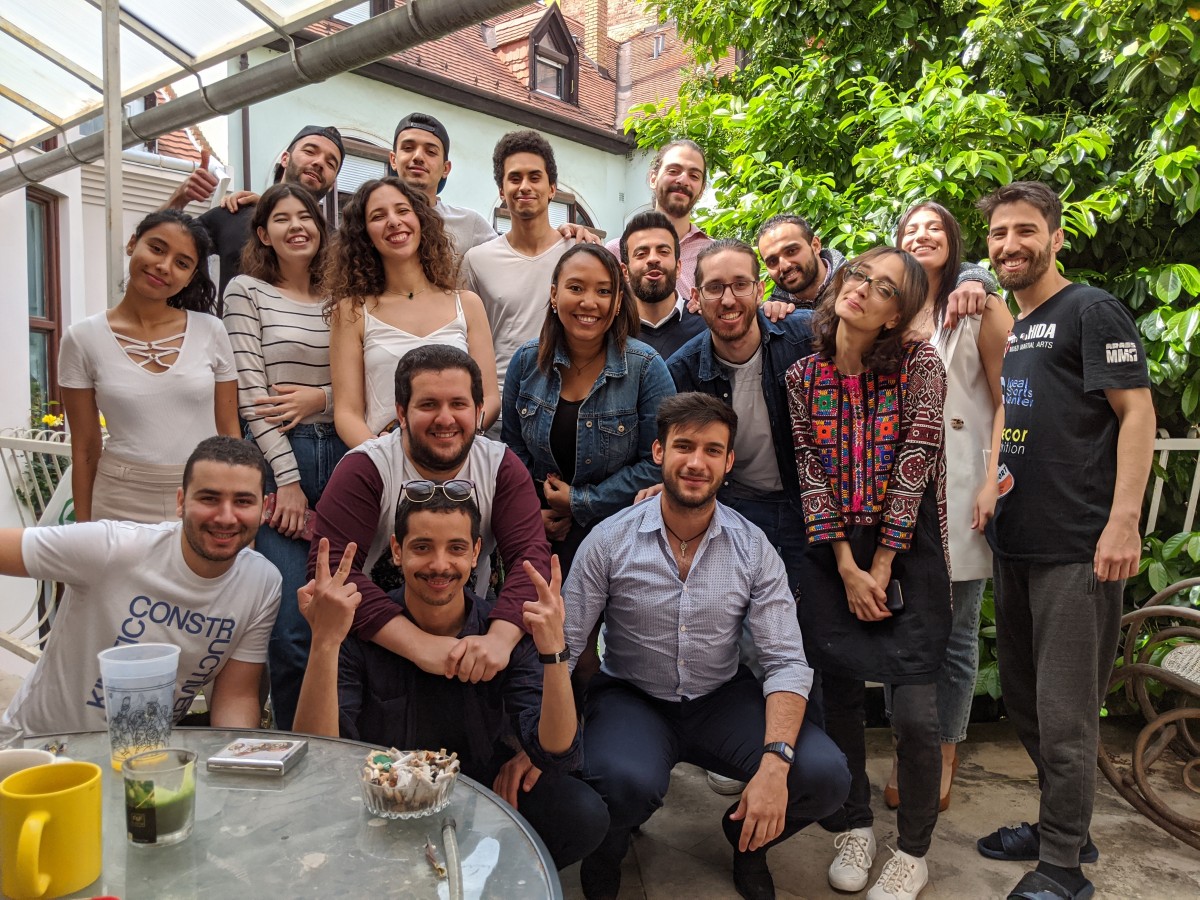 In the city center, it was like a festival! For 3 days, people were going out to gather and celebrate the Eid with their friends, as they are really at home! And you can see it in the eyes of local people here, they were happy for our happiness, seeing us enjoying, greeting, laughing, going out for coffee and drinks in the center, and we were certainly noticeable, they were happy for us, sometimes, they greet us as well, wishing us a happy Eid!
My flatmate had a nice idea that I liked so much, to celebrate the Eid with our neighbors! We actually live on the hilly part of Pécs, all houses, and quite a nice area where all the neighbors know each other. Although we don't speak Hungarian, and our neighbors they know that, but they insist on greeting us every time we meet or they see us, with a beautiful smile that we always give back as well. So Syrine, my flatmate, wanted to share part of the Eid's Tunisian pastries with them as well, and first thing in the morning, we were giving them a letter explaining the celebration of this day, and a few pieces of "Ghrayba" and "Basbousa" which I believe they truly liked, and we ended up having some nice Hungarian pastries the other day :D
A cozy and chill city like Pécs will always let you feel home, the whole atmosphere it leaves on its citizens, makes them closer, loving, and caring about each other. As international students living here, we always have the shared idea that Pécs became a second home, and whenever we are traveling somewhere, we always feel homesick to Pécs. This Ramadan and Eid could have never been the same in another city, I am sure about that!
Written by Aladdin Alrifai
International Student Ambassador from Lebanon
Msc in Applied Management 
University of Pécs, Faculty of Business and Economics
lebanon@pte.hu 
Study in Pécs, Hungary - Lebanese portal